First thing's first - petunias need sun. Give them a nice and sunny spot and they're great. We've narrowed down our petunia selection to a few key series.
Potunias: Mounded compact growth covered in flowers: Best for planters
Sweetunia: Semi-mounded, higher vigour: Best for planters and hanging baskets
Surprise: Trailing, high vigour: Best for hanging baskets
Wave: Vigorous spreading: Best for fast cover bedding
Pretty Series: Mounding, controlled: Best for bedding plant and planters
Specialty Petunias:Varies: Best for planters and baskets
So, as a summary:
I want to...
You should get...
Have a planted garden with a mass of colour
Wave,  Pretty
Wave for large areas
Pretty for more formality and denser flowering
Have an all-petunia hanging basket
Sweetunia, Surprise
Use Surprise in larger containers with more space
Have a mixed planter or hanging basket
Potunia, Sweetunia
Potunias for more dense planters with lots of colour
Sweetunias hang more for a less formal look
---
So let's talk a little about each series in a little more detail.
Potunias
To me, there are one of the best petunias you can get. They always end up covered in blooms, have very little disease or insect problems, and they really stand up over the summer. They are more compact and slower to cover, but they end up completely covered in blooms, even from a young age. There are three types of Potunias, too. Regular Potunias are the standard, Potunia Plus are slightly more vigorous for larger plants, and Potunia Piccola which are more compact and have an abundance of smaller flowers.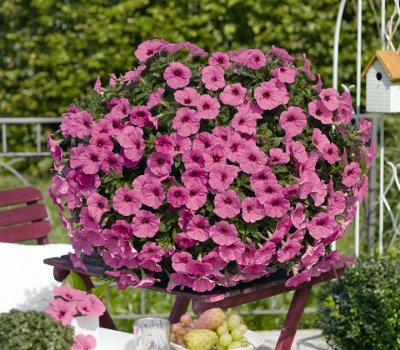 Potunia Plus Pinkalicous
Sweetunia
Sweetunias are the next step up in vigour from Potunias. They work great in larger planters and hanging baskets. Although higher in vigour, they still hold together very well compared to some other varieties we've seen that get rather "empty" in the middle.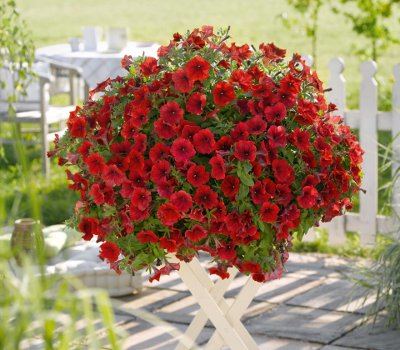 Sweetunia Hot Rod Red
Surprise
The surprise series is amazing. It's a great hanging petunia that holds up all year. Perfect for larger hanging baskets or really big planters with a less formal appearance. You can also use it as a bedding plant if you want lots of colour. Truly a great petunia series for that Wow! factor. Just be careful mixing it with other plants in a container - it can eat low-vigour plants if you don't watch out!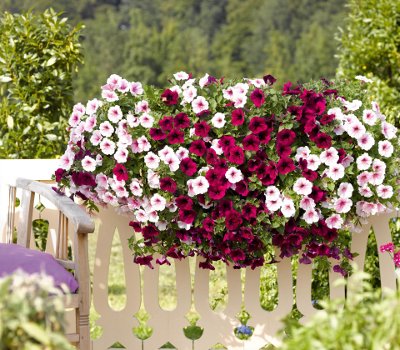 Surprise Hanging Basket
Wave
There are a lot of different Wave petunias out there. We think the Easy Waves are the middle of the series and offer the best of both worlds. They spread up to 3' so they have lots of vigour, but they're shorter and more manageable than some of the larger Waves, but still with a large flower size. I like Easy Waves in the garden as bedding plants. For baskets and containers, there are other varieties that we feel are better.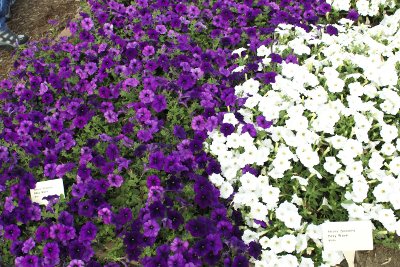 Easy Wave Blue and White
Pretty Flora & Pretty Grand
This is a newer series. It's a seed petunia with a "controlled growth." That makes it more compact and bushy with flowers totally covering the plant. It really is a snazzy looking petunia and this one really shows great potential both as a bedding plant, but also in planters where you don't want a petunia to take over. A really nice plant overall. Pretty Flora is a floribunda series with lots of flowers while Pretty Grand is the grandiflora so it has less flowers, but larger flowers.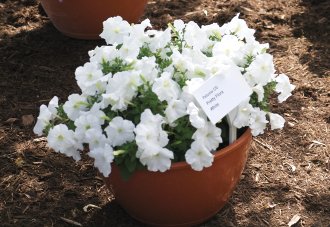 Pretty Flora White
Speciality Petunias
There are always a few plants that we just must have but aren't in a regular series like the others. One or two varieties just stand out from the crowd as a must-have. Some are only available pre-planted in hanging baskets and planters, but they are worth the mention.