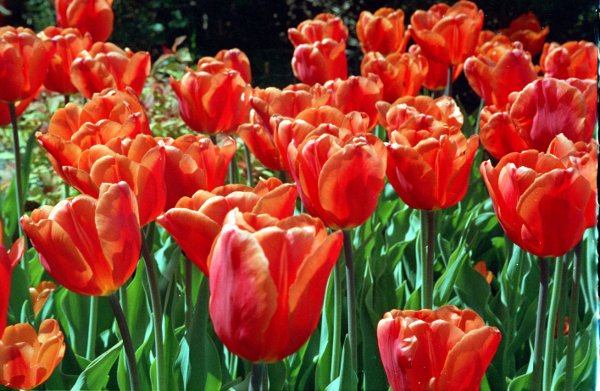 First, let's dispel some confusion. Bulbs in the gardening world are named for their planting time, not their flower time. That means that fall bulbs are the ones that get planted in the fall and flower in the spring. Spring bulbs are planted in the spring for summer flowering.
There are literally hundreds of different kinds of bulbs. The most common ones are tulips, daffodils and crocuses. Alliums, muscari, frittilaria, hyacinths, and others are getting more popular than they have been in the past, but the vast majority is still the tulips. The rules for most bulbs are pretty much the same. So let's get started.
The first rule of planting any bulbs: Pointy Side Up. It's a question that's far more common that I would have expected when I started working with bulbs, but it is by far the most asked question. You should also plant them about 2 1/2 times as deep as the bulb is wide. This is more a generalization so it's best to check for planting depth when you get your bulbs.
The second rule of planting bulbs: Plant Odd Numbers in Clumps. Odd numbers always look better in the garden. One solitary bulbs isn't all that exciting, so three should be the minimum. Plant them in clusters to get a nice show in the spring. I prefer to go with 7-9 bulb clumps spread around the garden up to a single mass of 25 bulbs. More smaller clumps gives you the opportunity to experiment with more colours and types of bulbs while fewer large clumps give wow factor.
Third rule of fall bulbs: Size Matters. A larger bulbs stores more nutrients and energy than a small bulb. The smaller the bulb, the more economically priced, but you may need 2-3 times are many bulbs to get the same effect. This rather defeats the purpose of saving money on smaller bulbs since you end up needing so many. We had a customer who came in and told us how her neighbour was bragging to her over how much money she saved by getting economy bulbs at an unnamed box-store. When the spring time came, our loyal customer got the upper hand because her larger bulbs all flowered with a beautiful show, but her neighbour who saved so much money only had leaves to show and no flowers.
Fourth rule: Plant Early. It's best to plant bulbs as early as you can in the season. Many bulbs will grow in the soil and set roots in the fall to prepare for the winter. The later you plant them, the less time they have to do that. Warm fall weather is bad for bulbs since nobody thinks of planting them until it's just too late. When the ground freezes, you can't plant and, around Ottawa, that's mid November or so. Another tip: plant early since your hands get really cold if you wait too long!
Fifth rule: Fertilize Properly. Use some bone meal when planting bulbs and a low dose of granular fertilizer or bulb booster. If you have squirrel problems, skip on the fertilizer and use blood meal. Since blood meal is very high in nitrogen, it will take the place of the fertilizer.
Sixth rule: Plant in Sun. It's never really written anywhere, but bulbs do best in the sun. Planting bulbs in the shade may give colour the first year, but without plenty of light the bulbs will not be able to store adequate energy to survive and flower subsequent years. What you end up with is spindly bulbs with floppy leaves and little to no flowers year two. Bulbs like sun.
Seventh rule: Plan for Wildlife. Squirrels, chipmunks, mice, and even deer can cause major problems with bulbs. Blood meal does help deter rodents to an extent, but don't overdo it or you may burn your plants with too much fertilizer. Other products like Deer Away, Animal Repellent, and Critter Ridder can be effective at repelling deer and rodents would typically avoid that stuff as well. If you end up with an infestation of wildlife, pick bulbs that critters don't eat. Daffodils are great bulbs as are frittilaria and hyacinths. Tulips and crocuses are a wildlife buffet. You could also try planting some garlic bulbs around your flowering bulbs to help deter the critters. Not a bad experiment to try and you'd get fresh garlic next year, too.
Eighth rule: Think of the Seasons. If you plant a large mass of bulbs, you will end up with a bare patch after spring flowering is over. This can make a great canvas for planting later annuals so it's not necessarily a bad thing. Clumps of bulbs mixed in with later flowering perennials makes a great combination for continuous colour. Bulbs can be planted quite close to most perennials since their timing works out very well and they don't usually over-compete. Just be sure to think of what else is in your garden and when those other plants show leaves and flowers.
Ninth rule: Have Fun. Experiment with your bulbs. The more you play with plants, the more you learn and the more you enjoy your garden. I like to plant crocuses right in my lawn - the ground is too hard for squirrels to get at the bulbs and they're usually done flowering by the time I need to mow my lawn in the spring. Little experiments like this can yield great results. Bulbs often take a few years to figure out what types works in your garden. Don't get discouraged by that and keep having fun. After all, that's what gardening is all about.